Simplify your decision with this comprehensive checklist.
With so many strong ERP systems to choose from, your purchase decision could become complicated, time-consuming—and ultimately, frustrating. That's why we've designed a tool that will help you make a better decision in less time.
The Business Management System Evaluation Checklist empowers you to focus on the features and benefits that are most important to your organization.
"Many products offer the same or similar features, and it can be confusing to sort out what's important and what's not. This tool can help."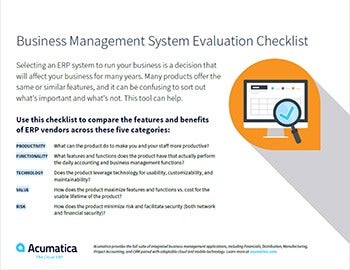 With this checklist, you can:
Consider five key factors in your product decision.
Identify the truly "must-have" features for your business.
Avoid getting stuck on outdated technology.
Minimize risk in ways that satisfy your executives.
Determine how your top choices stack up against Acumatica.
Don't miss this valuable resource. Just complete the form, and the checklist will be yours in seconds.
This tool is provided by Acumatica, a leading provider of cloud business management software that empowers small and mid-size businesses to unlock their potential and drive growth.